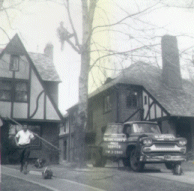 1960 Tree Timming Crew
Founded in 1953, before the service industry expansion, we are still guided by simple principles that we think you will find refreshing.
Quality
Our staff includes certified arborists and state licensed applicators which ensures professionalism and quality care for your trees and lawn. We make an effort to learn your expectations and strive to meet or exceed them where possible. The communication process is important for achieving your satisfaction.
Ethical Conduct
We conduct business with the highest ethics in mind. We will never sell you something you do not need. In fact, we willonly perform a service or job that meets our professional standards.
Customer Satisfaction
An early credo "Leave The Jobsite Cleaner Than When You Found It" continues to be our motto. We strive to follow through and deliver what we promise. If we make a mistake, we will make an honest effort to do what is necessary to correct it to your satisfaction.
Today, we offer a wide selection of outdoor care services. As a local family owned and operated company we look forward to serving you year after year.